Posted by Chanel L. Robinson on Aug 1st 2022
When it comes to hair, summer season is synonymous with protective hairstyling. The weather is hot and humid, pools and beaches are open, and we tend to travel more. So naturally (no pun intended) many of us rely heavily on protective hairstyles to tuck our hair away, keeping it free from manipulation. Here are the trending protective styles we're loving this summer:
---
STITCH BRAIDS
Stich braids are winning this summer! This trending technique is achieved using a stitch in braiding technique which consists of the hair being sectioned into thin or thick horizontal lines. The horizontal lines are then braiding into a cornrow using braiding hair and the feed-in method.
Why we love them: Stich braids are super neat, creative, and age appropriate for young girls and teens. From heart designs to intricate parting, this style can last up to 6 weeks depending on your hair texture and maintenance routine.
How to maintain: We recommend using Scalp & Skin Care Detoxifying Tonic to clean your scalp, Vitamin Drops to keep the scalp moisturized, and wear a silk or satin bonnet or scarf at bedtime.
Price Range: Stich braids costs between $80 to $200 depending on the style complexity, size, and length of the desired hairstyle.
photo source: Pinterest // Black Beauty Bombshells
---
FAUX LOCS
Faux locs are back by popular demand this summer. It's the perfect protective style if you're looking to rock locs without the permanent commitment.
Faux locs are achieved by two different techniques. The first technique creates a more natural look; hair is braided into box braids, then Marley hair is wrapped around the braid to create a loc that looks and feels like a traditional loc.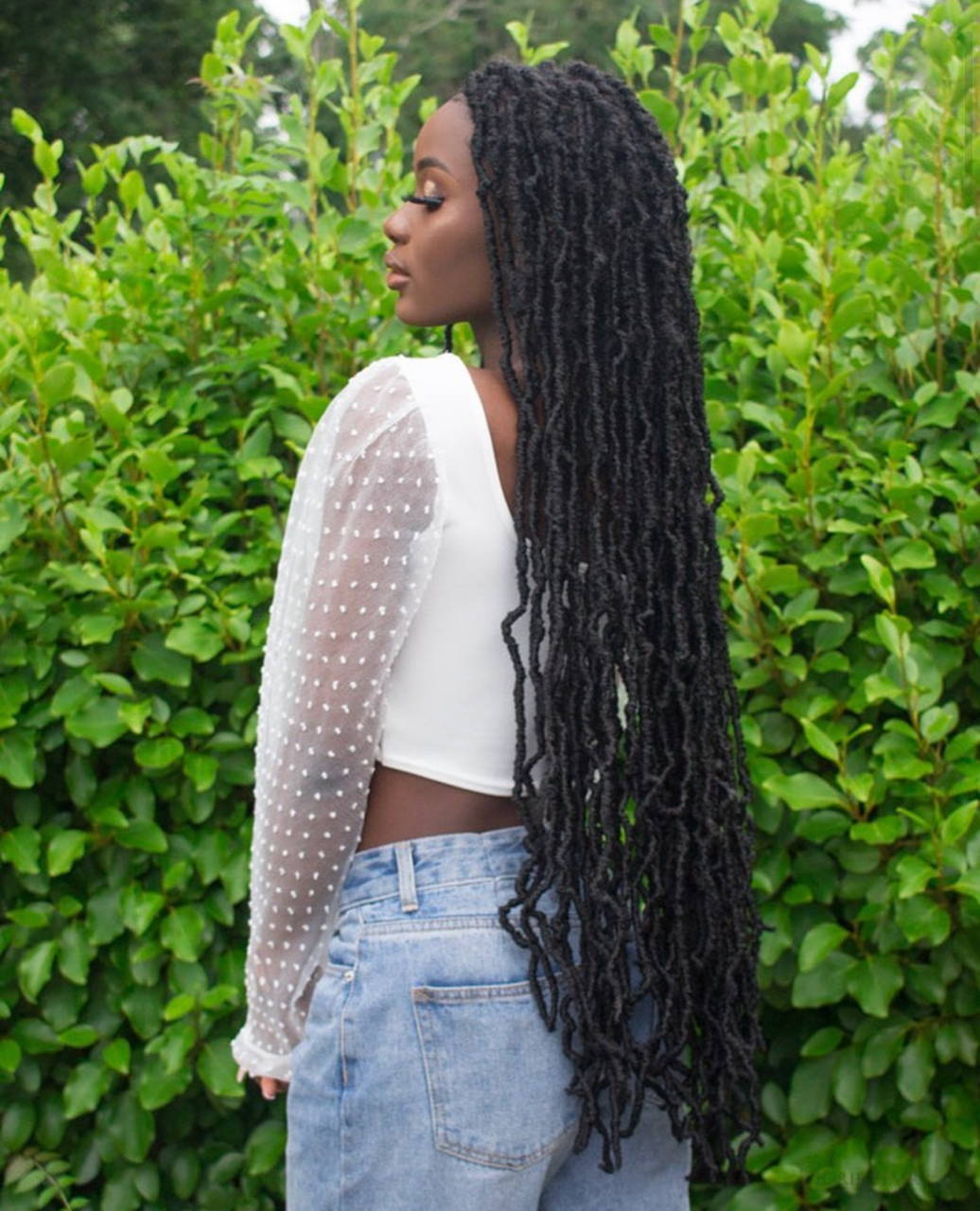 The second technique is an easier, faster DIY crochet method in which pre-formed crochet faux locs are crocheted into your own hair on individual plait braids or cornrows.
Why we love them: Despite which installation technique you choose, the finished look is a beautifully textured hairstyle that's surprisingly low-maintenance and can last 4-6 weeks without damaging your hair.
How to maintain: Keep your faux locs looking fresh by cleansing your scalp every 7-10 days with Design Essentials Peppermint & Aloe Therapeutics Anti-Itch Shampoo. Let airdry. Then moisturize and treat your scalp with our Scalp & Skin Care Collection. Wear a silk or satin bonnet or scarf at bedtime.
Price Range: Expect to pay between $150 - $300, depending on the installation technique, type of hair used, size, and length of the desired hairstyle.
photo source: Instagram//@joriehair
---
---
KNOTLESS BOX BRAIDS
Knotless box braids are a summertime staple for many reasons.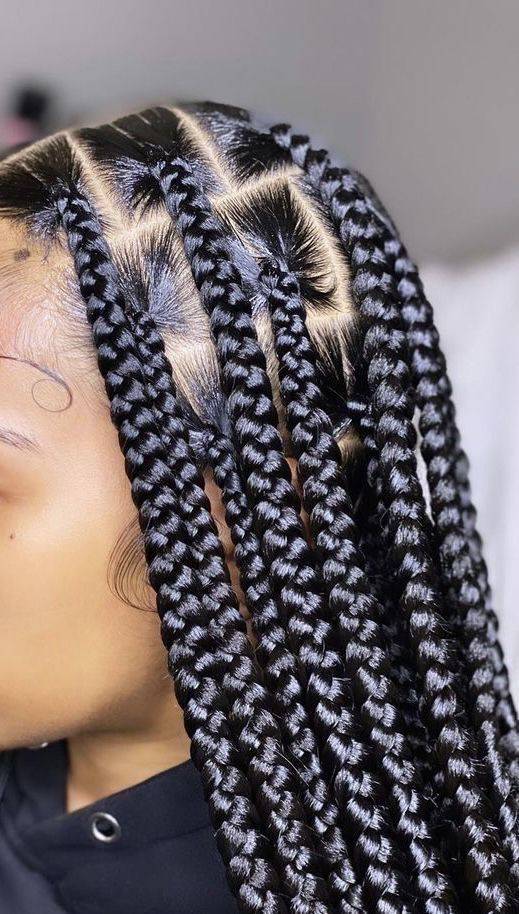 These braids are hands down gorgeous, versatile, and puts less tension and stress on your scalp and hair.
Unlike traditional box braids (where a knot is used to secure the braid at the scalp), knotless box braids are started using your own hair, and then gradually feeding-in braiding hair as you move down the braid.
Why we love them: The finished look is neat and feels lightweight on the scalp. Knotless box braids can be styled in the trendiest ways, and with the right upkeep can last up to 6 weeks.
How to maintain: In addition to cleansing and moisturizing your hair and scalp as needed, refresh your knotless box braids by taming flyaways with our Composition Wrap Lotion and Honey & Shea Edge Tamer. Always wear a silk or satin bonnet or scarf at bedtime.
Price Range: Knotless box braids costs between $200 - $1000. It depends on the experience of the braider, type of hair used, size, and length of the desired hairstyle.
photo source: Pinterest//We Heart It
---
PROTECTIVE STYLE PONYTAIL
A protective style ponytail is a great option this summer if you aren't a fan of braids or need to take a break from them.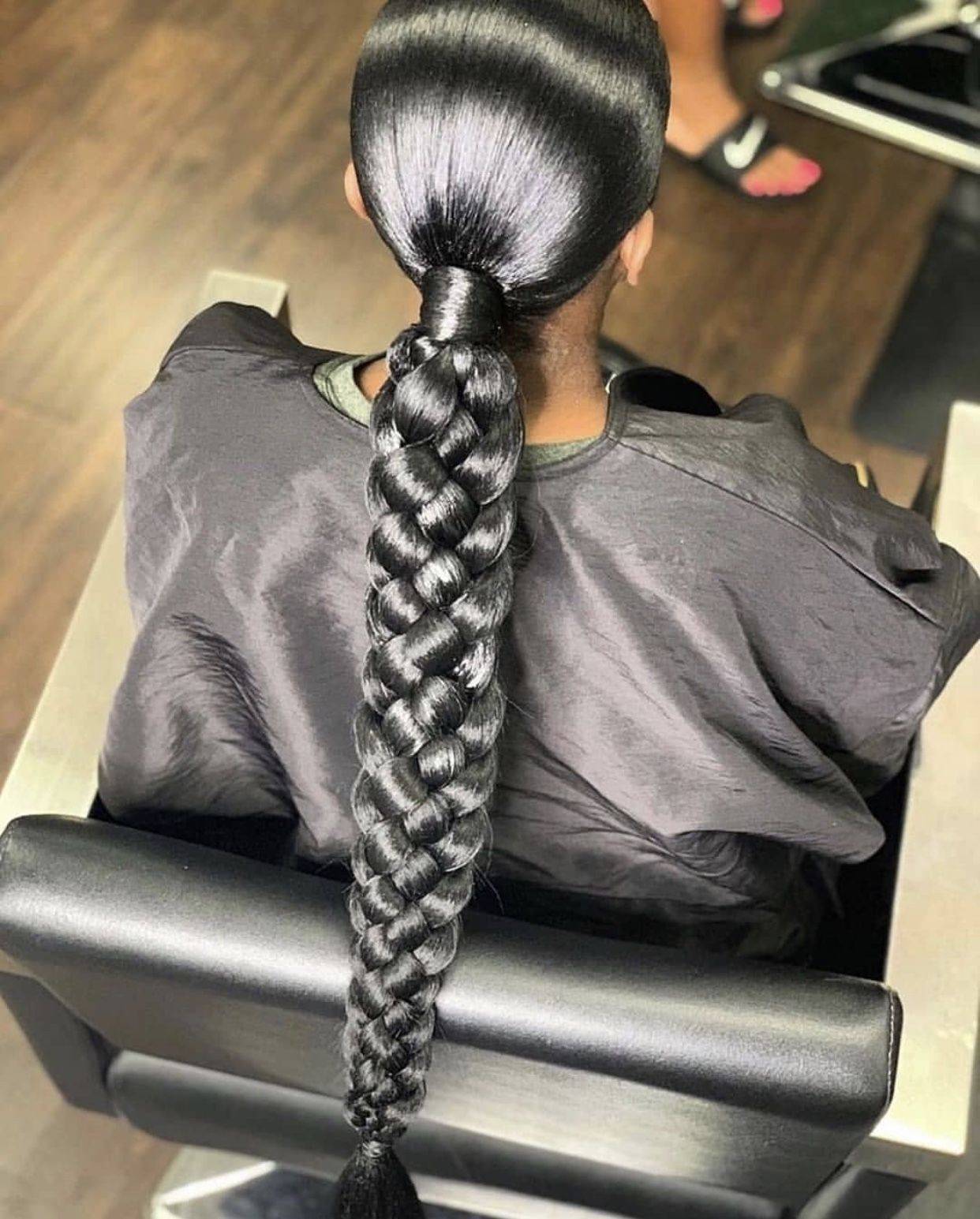 Whether you visit a professional hairstylists or DIY, a protective style ponytail is achieved on clean, dry hair. Gel is applied along the edges, parting area, and nape of the hair before being brushed completely smooth into a low or high sleek ponytail. Braiding hair or weft hair is added to the ponytail for fullness and length, then styled as desired.
Why we love it: Protective ponytails require NO heat. It's an elegant do-it-yourself hairstyle that will help protect your natural hair for up to 4 days. It's affordable, takes less than 20 minutes to do, and you only need a few products to maintain the style.
How to maintain: Keep your protective ponytail looking sleek with Design Essentials Sleek MAX Edge Control to tame flyaways for a long-lasting hold. Always tie your edges down at bedtime with a silk or satin scarf and protect your actual ponytail with a bonnet to keep the braiding or weft hair from tangling.
Price Range: Expect to spend under $30 if you DIY. Professional hairstylist charge between $75 -$150.
photo source: Pinterest//stylist unknown
---
We hope these trending summer hairstyles gave you some great protective styling ideas. Just make sure to take a break in-between protective hairstyles to give your real hair the love and care it needs too. Happy summer!
---
Protective Styling Must Haves!

---
-->