Posted by Johnaé De Felicis on Jun 14th 2021
Grab your wigs, extensions, and everything in between. If you want pro secrets for making these go-to protective styles last over a month (and still look as fresh as the first install), we're spilling stylist-approved tips for proper care and maintenance at home.
---
Tips for Extending the Life of Your Everyday Wig:
Don't let the ease of wig wearing fool you. Wigs require just as much maintenance as weaves and extensions–some more than others, depending on the type of hair used.
Quality wig care is necessary if you want to make new wigs a long-term addition to your collection. Follow these tips and you won't be so quick to throw the old ones out.
Once a week is the minimum that you should be washing your everyday wig. This will help remove any accumulated product buildup that could bog it down.

By giving your wig a gentle finger-comb throughout the day, you'll have an easier time keeping tangles and frizz under control. You also wouldn't have to detangle it with an actual comb or brush as often– which may cause your wig to lose hair and body if done too frequently. Doing this occasionally shouldn't be a problem however, just as long as you use a

wig brush

or a

wide-toothed comb

.

Go for the "good" wigs. As the old saying goes, "You get what you pay for." Unless you like to change wigs as frequently as you change clothes, remember that quality is better than quantity when investing in a new one. Human hair wigs generally last longer than wigs made with synthetic hair. Although they are a little more on the pricey side, you can get a good amount of wear out of them with proper maintenance. We're not talking months–we're talking years.

Invest in products that are essential for at-home wig care. A wig tends to lose its "zhuzh" as it dries and flattens out with constant wear. The right wig care solutions will provide enough moisture and deep conditioning to restore its luster. We suggest using the Design Essentials Wigs & Extensions Collection for this purpose, as it can work magic on both synthetic and human hair wigs.
---
For Wigs, Weaves, and Extensions!
---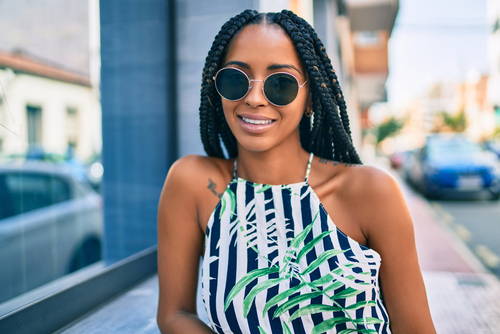 Tips for Making Weaves & Extensions a Lasting Investment:
Nothing is more devastating than dropping hundreds and thousands of dollars on a new weave install, or even a braid or twist out, only to have to take it down due to poor maintenance shortly after.
Too much neglect could result in a series of headaches that a protective style is supposed to protect your hair from (including hair damage). This can easily be avoided by ensuring that it's well taken care of from the very first day.
Preserving weaves and extensions will not only require dedicated attention to the install and the extensions themselves, but also to your scalp and natural hair underneath.
Here are some pro tips:
Cleanse your weave or extensions every other week–at the least. They may start to look greasy as excess oil and product buildup accumulates. Unless that's the look you're going for, you'll want to give them a good wash and shampoo to eliminate the buildup and debris. If you need recommendations on a cleanser, try our

Wigs & Extensions Sulfate-Free Conditioning Shampoo

.

Conditioning is equally necessary, especially if you're rocking a curly or wavy weave. In this case, you would need a good deep conditioner for detangling purposes, and to help your weave restore its shape post-wash. We recommend the

Wigs & Extensions Detangling Blow-Dry Conditioner

.

Don't forget to cleanse and condition your scalp and hair underneath! This will further eliminate buildup and retain the moisture of your natural hair. You shouldn't apply the same shampoo and conditioner that you use on your weave and extensions to treat your own hair, as it may be formulated specifically for that type of hair. Instead, use "wash day" products that are meant for natural hair (like the

Almond & Avocado Moisture Pack

).

If your extensions are glued in, you may have to take them out, wash them separately and reinstall after cleansing your scalp. Obviously, the process is much easier with a sew-in or braids. You can just cleanse the extensions while still installed, and massage products into your scalp with your fingertips.

Take time to thoroughly dry your hair underneath after cleansing and conditioning it. Failing to do so may result in the development of mold or mildew in your natural hair. Your hair could also mat if left wet for too long, which could be a recipe for disaster once you're ready to take your weave or extensions out, so sit under a dryer if you can. If you're in a hurry, use a blow-dryer.
Give your scalp and natural hair a breather every now and then. If you wear weaves, braids, or twists often, try to switch things up from time to time between wearing weaves or extensions and your

natural hair

. Don't let it stay braided for long periods of time, as this could stunt your natural hair's growth (lengthwise and in terms of fullness).
Did you learn anything new from us about protecting your investment (i.e., wigs, weaves, and extensions)? If so, be sure to tell us how these tips work out for you! Follow Design Essentials on Instagram to keep us in the loop.

-->