Posted by Design Essentials on Aug 15th 2022
If you offer wig and extension services, you're familiar with how lucrative these services are when clients trust you to care for their weave and wig investments. It's not uncommon for a client to schedule extension maintenance before their installation service to extend the beauty and wearability of their bundles or wig units. So, continue reading to learn how to protect and prep your clients' wigs and extensions in 3 easy steps.
---
Step 1:
Clarify the Extensions Before the Install

Always begin with freshly shampooed bundles before providing any extension or wig service. This step is extremely important because sometimes newly purchased extensions will have a chemical or dye residue on the hair as a result of the manufacturer creating a specific texture or desired color. Therefore, the hair must be cleansed with a clarifying shampoo prior to installation for a clean, fresh start.
If your client is supplying their own extensions, require that they bring in the bundles a few days before their appointment. This will give you enough time to cleanse and condition the hair with Design Essentials Wigs & Extensions Sulfate-Free Conditioning Shampoo.
Why DE Pros Love It... This gentle cleanser is curated specifically to refresh and moisturize synthetic and human extensions. It's formulated with Moroccan (Argan) oil to restore dull hair to a natural shine. And it helps to eliminate and reduce the number one extension culprit: tangling and shedding.
If your client prefers to clean and condition their wig or extensions themselves, that's totally okay! Encourage them to purchase the Wigs & Extensions Collection directly from your salon (Yasss, you can retail this collection) or suggest Amazon.
---
Step 2:
Allow the Extensions
to Air-Dry...
And Protect Them Before Thermal Styling
If your client plans to rock a beautiful curly or blow-out texture, allow the extensions or wig unit to air dry in the salon overnight until it's completely dry. Air-drying avoids unnecessary heat, reduces frizz, and really allows the texture of the hair to pop!
But if blow-drying and thermal styling is required for the clients desired look, protect their hair investment by using a hooded dryer instead of a blow dryer, set thermal tools on low-heat settings, and always use a heat protectant. Try Design Essentials Wigs & Extensions Detangling Blow-Dry Conditioner and Finishing Thermal Serum.
Why DE Pros Love Them... Regular moisturizing conditioners can be too heavy for wigs and extensions. That said, our lightweight Detangling Blow-Dry Conditioner moisturizes and adds shine without a heavy build up. Just spray the conditioner throughout the extensions, remove any knots and tangles with a wide-tooth comb, and allow the clients weave to air-dry or heat-dry.
Only apply the Finishing Thermal Serum if you plan to flat iron or curl the extensions. This heat protectant styler helps to lock moisture into the hair, smooths the hair shaft, and eliminates static while giving the extensions a professional high-gloss finish. *If your client has synthetic or color-treated extensions you don't want to miss this step!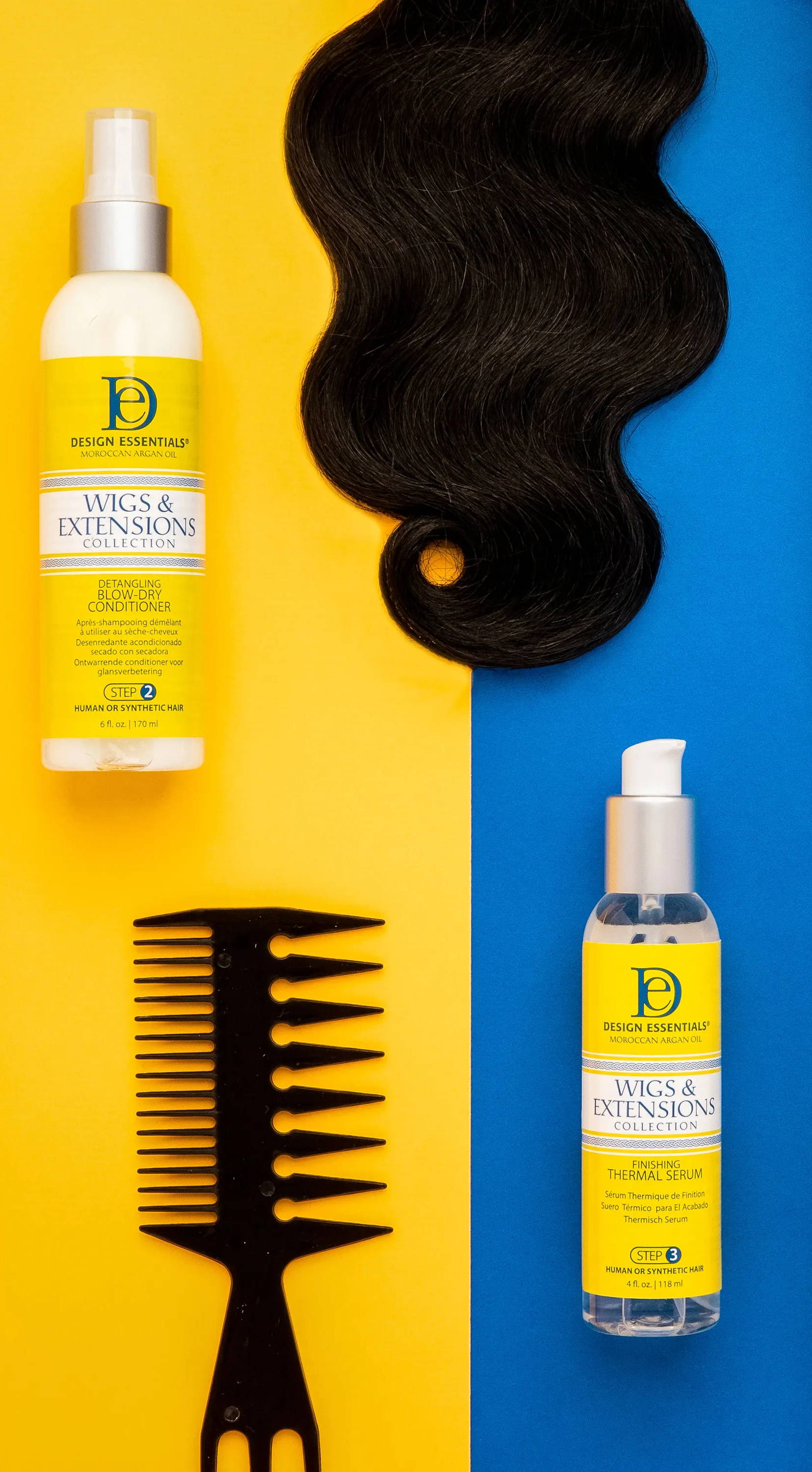 ---
Step 3:
Finish with Design Essentials Wigs & Extensions
Finishing Shine Spray
No extension or wig service is complete without finishing the style with an even mist of Design Essentials Wigs & Extensions Finishing Shine Spray. It's a certified way to give your client that just left the salon confidence while adorning a new wig or extension install!
Why DE Pros Love It... Wigs and extensions naturally lose their luster overtime. Thankfully, this Finishing Shine Spray will bring your clients bundles back to life. It's uniquely designed to add sheen to human or synthetic weaves without leaving a dull film or heavy oils. Giving just the right amount of soft, lustrous shine to make your client fall in love with their wigs and extensions all over again!
---
Interested in retailing the Design Essentials Wigs & Extensions Collection in your salon? Contact your local DE Distributor for more information or visit designessntials.com

-->