Posted by Design Essentials on Dec 10th 2019
Have you ever considered coloring your curls?! But fear you may experience color damage or breakage in the process? If so, take a deep breath...We're here to confirm that curly hair textures can maintain its integrity once color-treated IF you commit to at-home color maintenance, and give your new colored coils the extra love they'll need.
In our latest Begin Beautifully transformation video we featured 29 year-old Aleisha Brown who had her beautiful curls colored and styled by Atlanta hairstylist, @Stylist.Charley. We spoke with Aleisha to discuss the outcome of her double-process color service; here's her advice to all the curly girls that are indecisive about coloring their hair:
Design Essentials: Tell us about your color history? Was this the first time coloring your curls?
Aleisha Brown: No. I've been coloring my hair for years. I started at age 16 or 17 with highlights. In recent years, I just started doing a single-color process and highlights. My hair is pretty strong so over the years I've done reds and blondes and everything in-between.
DE: Do you always have your curls colored by a professional stylist?
Aleisha: Yes. Always.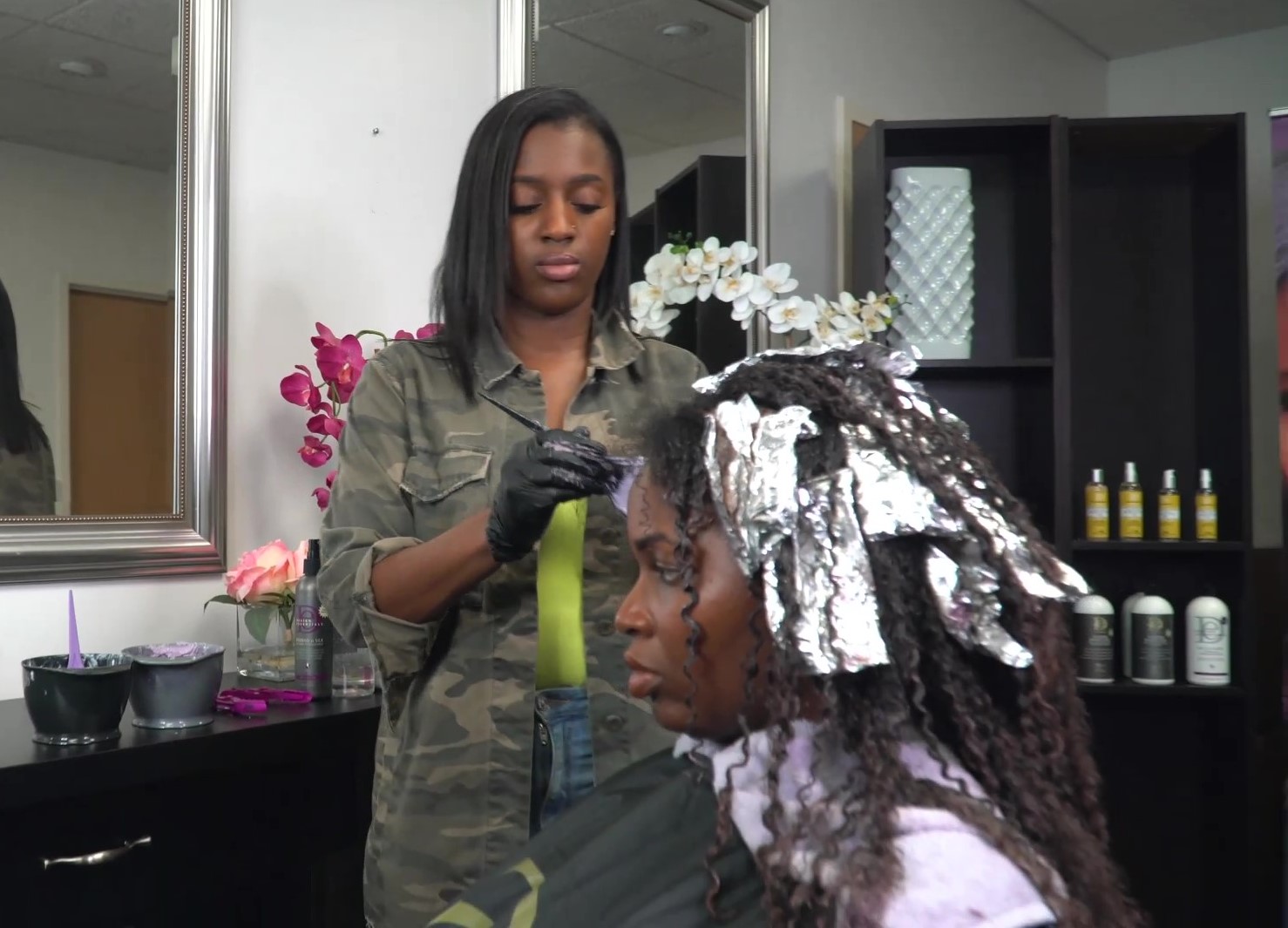 DE: Since you color and highlight your hair frequently, do you ever get concerned that your curls may become weak or damaged as a result?
Aleisha: I've never really had concerns because my hair is thick. I have 3C [texture] but in the crown area it's definitely 4A. The only concern I did have is when Charley said she wanted to do blonde. I've had blonde in the past and it worked well, but I see others with blondes, and I see the breakage that they have. So anytime I do a blonde I get a little hesitant. I just have to take care of it with deep conditioning.
DE: Curly girls often fear that hair color will loosen or elongate their natural curl pattern. Has this been your experience?
Aleisha: Color always loosens my curls up a little bit in the beginning. But as I wash my hair it always tightens back up. I actually like getting color for that reason because it gives you a looser coil, but for me it bounces back.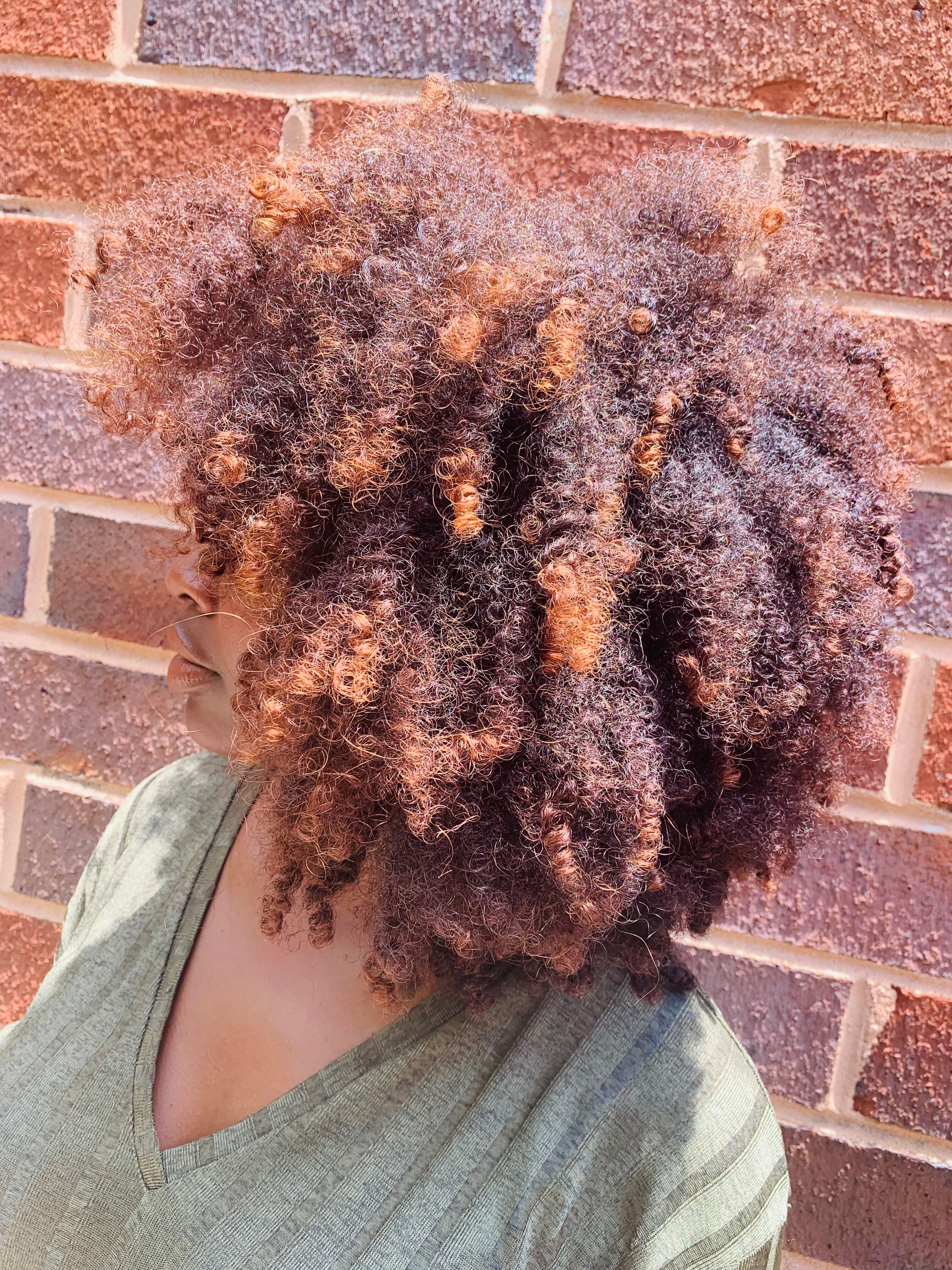 DE: Do you avoid thermal straightening your color-treated curls?
Aleisha: I only straighten my hair once a year (professionally) when the weather permits. During the colder months I tend to do twist-outs. And now that it's colored, I'm doing a lot more wash and go's because I think it looks better.
DE: What should others expect in terms of maintenance once they color their curls?
Aleisha: They need to take into consideration that wash day will take extra time because you want to make sure you do a good deep condition, hot oil treatments, hydration treatments. If you have blondes or reds use a conditioner that's specific to those colors. Make sure that you're thoroughly detangling your hair and getting trims. Don't skip those trims! Every 3 months I do a light dusting on my ends.
DE: As a professional hair care brand, we always suggest having a color consultation before receiving color. What advice would you give to someone having a color consultation for the first time?
Aleisha: I would say to take your time and look at the stylist work if they have a portfolio, or Instagram, or any social media just to make sure they have a solid customer base. I would also do research on the type of hair color they use and make sure the stylist is knowledgeable about how to take care of your hair after you get it colored.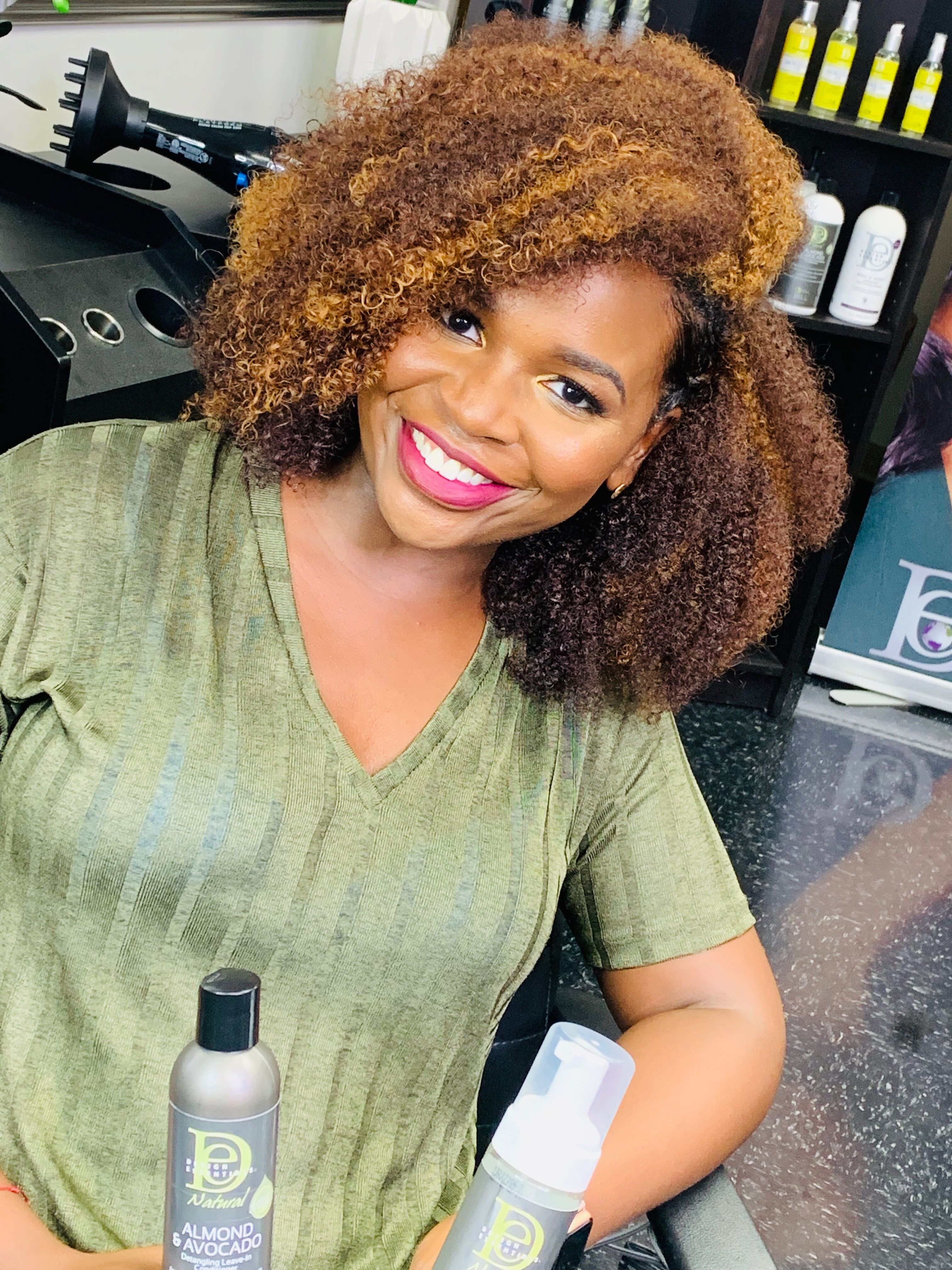 Watch Aleisha's gorgeous color and style transformation by @Stylist.Charley, owner of salon @HairLoftATL. Using the Design Essentials Almond & Avocado Moisturizing & Detangling Collection we embraced and celebrated unapologetic curl love with some mega volume!