Posted by Angel Johnson on Nov 22nd 2019
"OMG your hair color is so pretty and healthy! Who does it? What products did they use?"
These are the compliments and questions your color clients receive when others see hair that's infused with reds, coppers, blondes, purples, blues, or whatever creative hues you mixed up. And if your clients are anything like mine, the response should be, "My professional stylist does my color and she keeps my hair healthy with Design Essentials."
As professionals, we know that hair color can bring life or death to a head of hair; and since we're in the business of maintaining healthy crowns, I want to share how to protect your client's color-treated hair from breakage and dryness.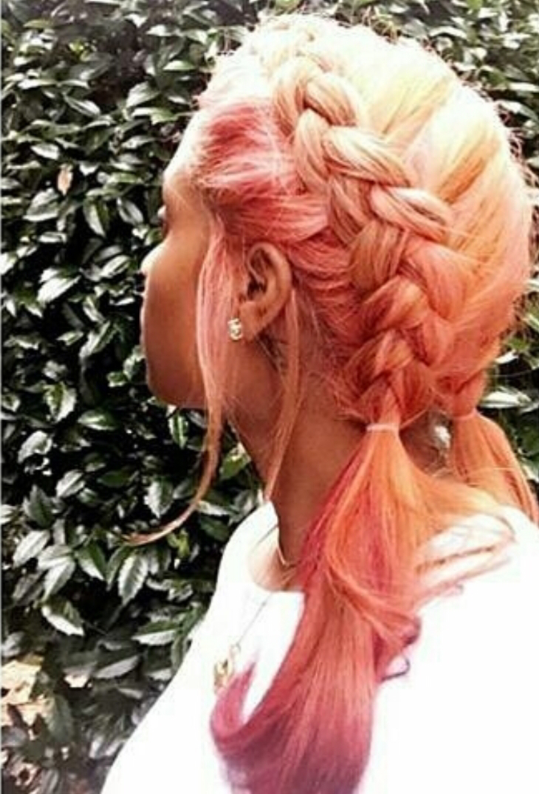 Beautiful, vibrant pastel color created by DE Certified Educator, Angel Johnson.
Whether your client has semi-permanent color, demi-permanent color, highlights, or high-lift color the way to combat breakage and dryness is by maintaining color vibrancy, restoring moisture, and most importantly understanding your client's lifestyle and level of vanity:
LIFESTYLE: Does your client's profession or participation in physical activities require or hinder them from shampooing their color-treated hair often?
VANITY: Is their hair always bomb? Not a hair out of place? Then we can assume hot tools and a lot of product are used frequently.
Once you assess your client's lifestyle and vanity, you might ask yourself, "How do I address my color-treated clients who work out? Sunbathe? Shampoo and blow-dry 2 to 3 times a week? Flat-irons every day? And (sigh) who doesn't put anything on their heads at bedtime?"
It's easy! First you must drill into their heads the consequences of not taking care of their color-treated hair. Do they want stiff, dry, broken hair that's patchy and stringy? This description is rather extreme yet extremely truthful. It happens when color-treated hair is neglected.
But with your guidance and care, your clients will be 100% to the good if you express just how important it is for them to keep the same hair care regimen as the one you perform in the salon. In addition to sending them home with color-care maintenance products from YOUR salon shelf (retailing is always a win-win and serves as another stream of income).
Here are my 4 favorite DE products with exceptional benefits to protect color-treated hair from dryness and breakage.
1. Design Essentials Gentle Balance Sulfate-Free Nourishing Shampoo
Doesn't strip color-treated hair

Can be used daily

Replenishes hydration and moisture
2. Design Essentials Almond Butter Express Instant Moisturizing Conditioner
Instantly moisturizes color-treated hair

Lightweight

Softens and detangles
3. Design Essentials Bamboo & Silk HCO Leave-In Conditioner
Replenishes moisture to color-treated hair

Thermal protectant

Smooths the cuticle and adds shine
4. Design Essentials Silk Essentials
Conditions and softens color-treated hair

Eliminates frizz

Lightweight thermal protectant
Between visiting you regularly for color maintenance and using Design Essentials at home, your clients have a full proof way of maintaining healthy, moisturized, and soft color-treated hair. Educate them! They will appreciate you as the expert and trust to follow your direction.
Interested in purchasing or retailing recommended Design Essentials products from this blog? Contact your local DE Distributor or visit the DE Salon Pro App.
Angel Johnson is an Educator and Healthy Hair Specialist in Atlanta, Georgia. In her 23 years, she has focused on the hair color and texture hair care experience. You can reach Angel at CallOnAnAngel.com @call_on_an_angel