Posted by Design Essentials on Jan 23rd 2020
Have you ever gone easy during a workout or skipped it altogether in order to keep your hairstyle intact? Don't be ashamed if you answered yes - many women find it difficult to stay fit AND maintain their strands. Especially if the hair isn't in a protective style. But don't let that stop your fitness journey! Here's 4 DE Tips on how to keep your hair tight while getting your body right.
Wear Hair in a Loose Ponytail or Bun
If you literally work up a sweat when exercising, then we recommend wearing your strands in a loose ponytail during workouts. Rocking a high or low ponytail that isn't secured too tightly allows airflow to the scalp, which will naturally help to dry perspiration and prevent swelling at the roots.
If your ponytail drapes longer than your nape area, opt for a loose bun to protect the ends from touching any sweat lingering on your neck, shoulders, or body. When your workout is complete, immediately remove the ponytail/bun to eliminate any crease in the hair.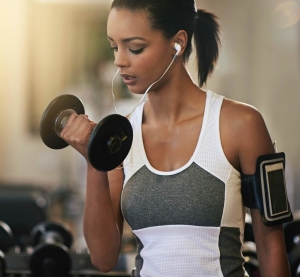 Reduce Moisture Around the Hairline
The chances of sweating out your edges while exercising can be reduced when you invest in a quality sports headband. We've heard great things about Gymwrap - Nicole Ari Parker's line of workout headbands, guaranteed to protect any hairstyle from sweat and moisture. Gymwrap is designed with EVAPOtech, a blend of 3 fabrics scientifically designed to actually wick sweat away from the head to keep you cool, dry, and protected.
This Instagram raved headband comes in a variety of colors and works great for all hair types, textures, and lengths. We particularly love it for short cuts because it keeps hair firmly in place without disrupting the style.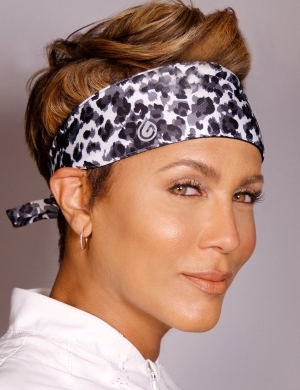 Photo credit // www.thegymwrap.com
Refresh Hair Promptly After the Workout
Hair has great formation memory. Therefore, to avoid "gym hair" we highly recommend to refresh your 'do promptly after your cool down. Start by using a compact hair dryer (on a cool/low setting) to dry any excess moisture at the scalp and on the hair. Next, spray a dry shampoo throughout the scalp and hair to absorb and remove oil, sweat, and odor. Using a dry shampoo will deliver beautiful, healthy looking hair while helping strands feel and smell clean. Furthermore, they get job done for all hair types and are safe for color-treated and/or chemically-treated hair.
Now let's restyle your crown...
Silk pressed or relaxed hair

:

Add a few drops of thermal protectant serum to your strands for shine and protection. Then if needed, use a thermal tool (on a low heat setting) to smooth the hair and tame any flyaways. Sleek hairline with edge control.
Product recommendations: Design Essentials Platinum Thermal Protectant Hair Serum & Edge Control Gel.
Waves, curls, & coils: Rework and redefine natural hairstyles with your favorite curl refresher styling product. Then finger comb and fluff wash and go's, twist-sets, or braid-outs to desired volume and definition. Complete the style by

taming unruly edges with a moisturizing edge control.

DE PRO TIP: If your roots fall limp post-workout, flip your head upside down, insert a pick comb at the roots, then pull gently 1 to 2 inches toward the ends of your hair. This will help achieve volume and bounce!
Product recommendations: Coconut & Monoi Water Curl Refresher & Almond & Avocado Honey & Shea Edge Tamer
Short Cuts

: To reform curls or smooth your hairstyle, protect the hair with a moisture infused heat protectant, then thermal style with your choice of thermal tool (be sure to keep heat settings low). Or skip the heat! Instead opt for a styling putty that will create and add texture to short styles without the need to reapply heating tools.
Product recommendations: Platinum Curl Control Thermal Glaze & SLEEKPLAY RESTYLE Pliable Hold Fiber Creme
Schedule Workouts Accordingly
Let's be realistic - there will be times when you need your crown to looks it's best. So, we suggest coordinating your workout schedule around your personal commitments. For instance, if you're giving a work presentation Monday morning - move your workout to the evening. Blind date on Saturday night? Plan to exercise on Friday, rest Saturday, get back at it on Sunday...You get the idea!
It's all about balance. You're capable of crushing your fitness goals and maintaining beautiful hair. Just utilize these great hair tips and put in the work!