Posted by Design Essentials on Nov 22nd 2019
Congrats! You're officially off to college to do big things. You have your class schedule on lock for the semester, feel good about your newly decorated living quarters, and hopefully are already scouting student organizations to join. Now it's our job to ask, "Have you found a licensed hairstylist or barber to take care of your hair while away from home?
No worries if you haven't. We know you had a million other things to check off your to-do list, so we got you covered. Here are 4 tips on how to find a new stylist or barber in a new city:
TIP #1: Browse Beauty and Barber Apps
Regardless if you claim Team Apple or Team Android, you can search online for local hairstylist and barber professionals by downloading popular apps like StyleSeat, Booksy, theCut, or Square Appointments. These beauty and barber apps allow you to scroll through photos of hairstyles, browse service menus, read reviews, and book appointments straight from your phone. Can't get much easier than that, right?
It can! What we really dig about these apps is that most are equipped with 1-click categories to maximize search results. For instance, StyleSeat has categories like:
Top Barbers Near You

New Stylists This Week
Available Today Near You
Special Offers (a college student favorite for those tight on coinsn)
So, head over to Apple Store or Google Play to download any of these recommended beauty and barber apps.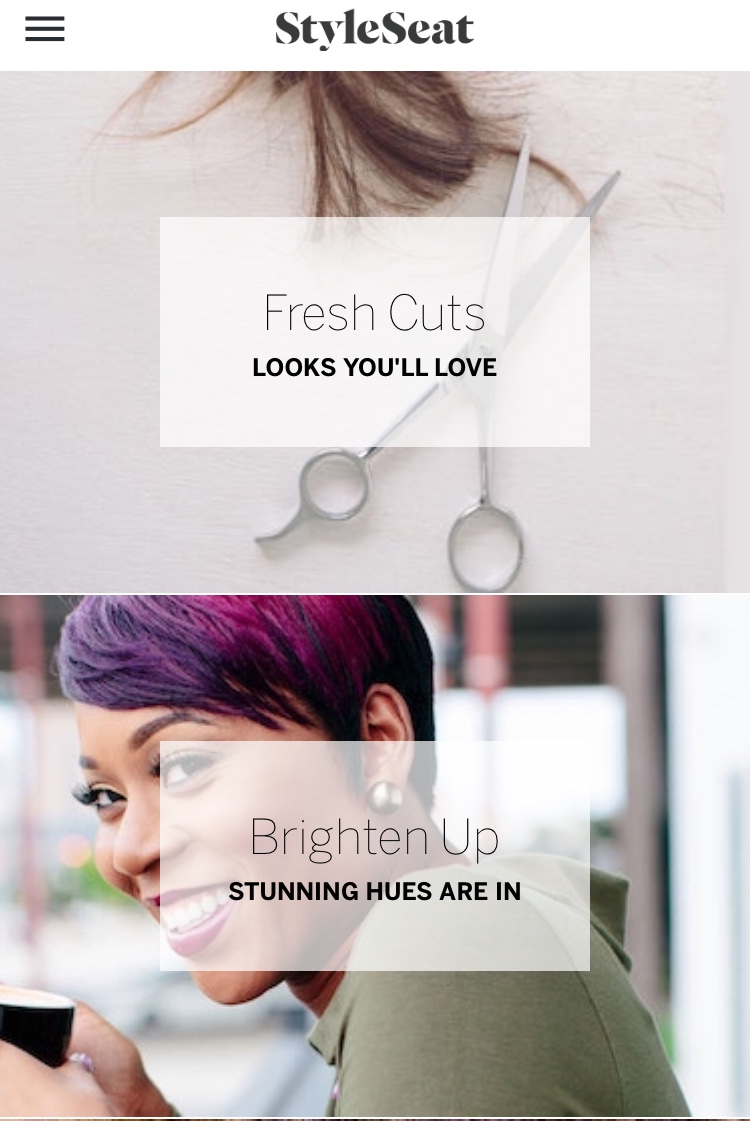 Mobil homepage from the popular StyleSeat Beauty App. Featuring select categories to make finding a new stylist or barber easier in a new city.
TIP #2: SEARCH SOCIAL MEDIA HASHTAGS
True story: Last summer I desperately wanted a dope undercut design at the nape of my head. But only under one circumstance...It had to be done by a professional female barber. Huge problem because I didn't personally know any female barbers in my city, so I turned to Instagram and searched the hashtag #chicagofemalebarber. To my surprise 1,000+ images popped up, but I scrolled on a mission finally landing on the IG account of an amazing barber with quality graphic work. Conveniently, she had a booking link in her profile that directed me to her StyleSeat and one year later she keeps me fresh. Shout-out to my barber, Jess!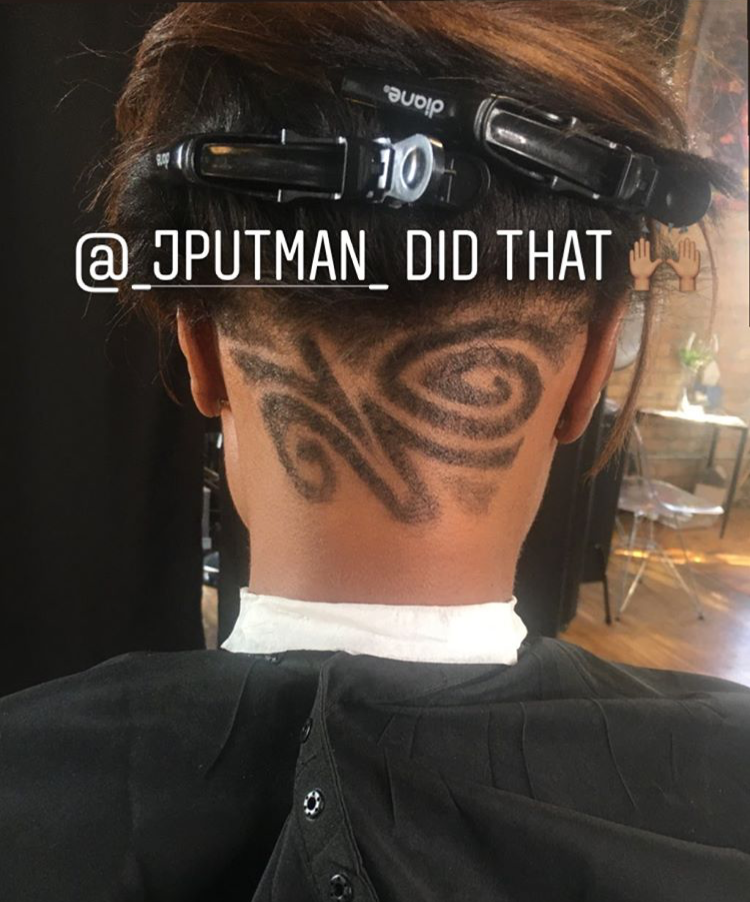 Moral of the story: Using hashtag searches on Instagram is a great tool when seeking out a new stylist or barber in a new city. Just type in your location (or college), followed by your hair preference, and IG will do the rest – providing you with images of Top Results and Recent Results. It's really that simple.
DE PRO TIP: Professional stylists and barbers often use various hashtags to tag their work on social media. Therefore, when performing an Instagram search, try using different hashtags as well to yield better results. For example, if you're looking for a barber in Austin, Texas we suggest searching the following hashtags:
#austintxbarber
#austintexasbarber
#austintxbarbershop
#austintexasbarbershop
Believe us, although tedious some of the best stylists and barbers are found on Instagram. It'll be worth the effort!
Tip #3: Don't Be Afraid To Ask Other Students On Campus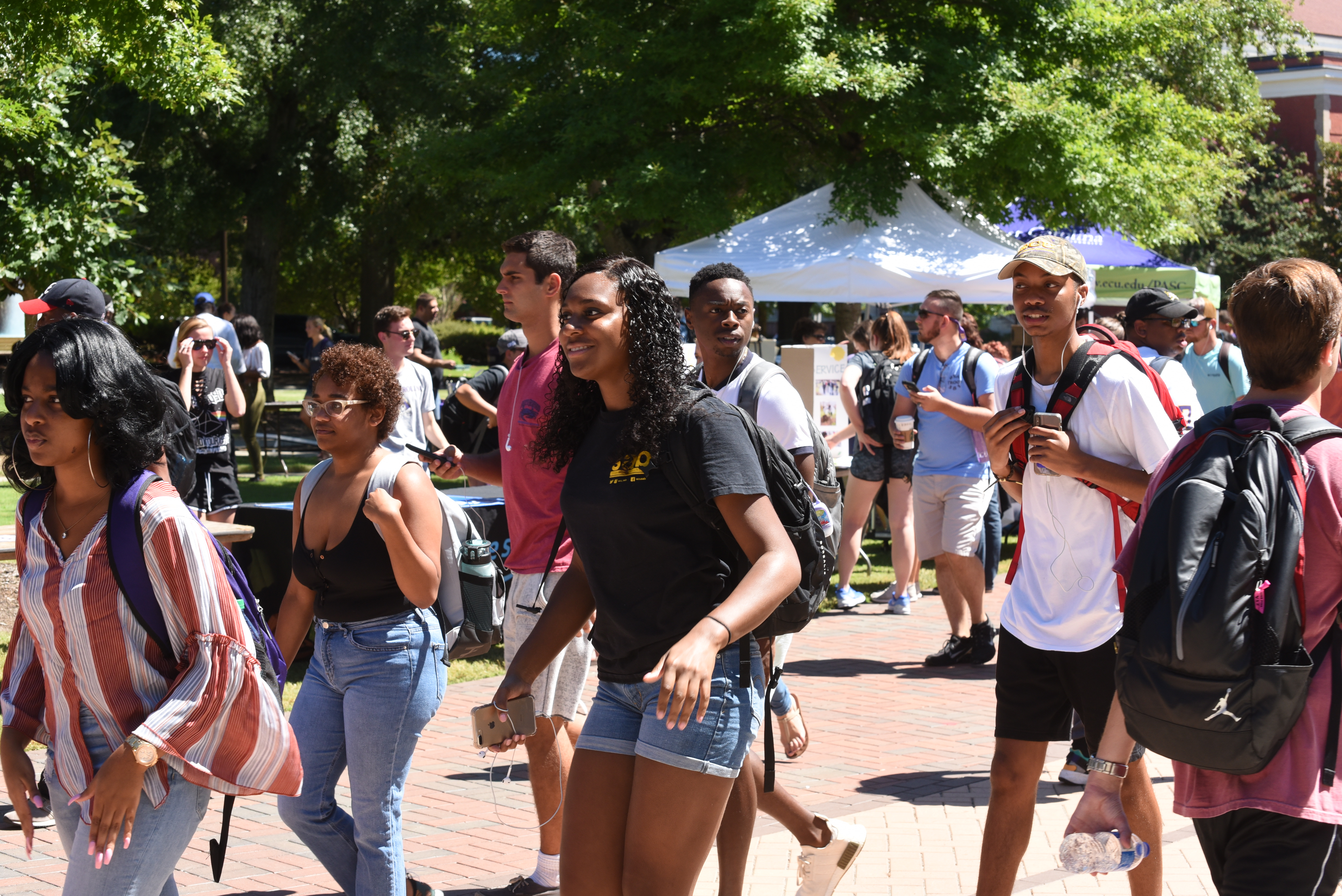 Before the days of accessible internet and social media, guess what? When you crossed paths with someone that had beautiful hair you were forced to ask that person, "Hey where do you get your hair done?" And we encourage you to keep that same energy.
Ladies and gents, if you walk pass another student with a style or cut you like, ask for their stylist's or barber's contact information. You'd be surprised at how willing others are to share. So, thank them in advance, and if you end up visiting their referred stylist or barber pay it forward when the next person on campus asks who does or cuts your hair. More so, if you love your hair after visiting a new stylist, show some love by posting a picture of your new 'do on social media and tag your stylist.
Tip 4: Know What Questions To Ask During Your First Visit
You've successfully found a stylist or barber using Tips 1-3, now it's time to book a consultation in hopes that your new stylist is a good fit for you! Here are a few professional indicators and questions to ask during your first visit prior to the actual hair service:
Expect to complete a client intake form or verbally tell your stylists: when was your last salon visit, chemical services you've had in the past, what your hair expectations are, are you on any medications, frequently used hair products, and your current hair regimen. This Q&A session is a great way for the stylist to better understand your hair history, current hair health, and your future hair goals.
Ask about cancellation/late arrival policies. What is the grace period for running late before rescheduling is required? Is there a fee for being tardy or having to resch

edule?

Is there a fee for cancelling within 24-hours of a booked appointment?
Always ask how much the service costs before booking an appointment. Never assume.
Ask about customer satisfaction policies. What steps will be taken if you do not like the style?
What is the visitor policy? It's becoming more common for a stylist to request that no extra-people are present during appointments. So, ask before your homegirl/boy tags along.
If booking a color service, ask if the stylist performs color services on the 1st visit.
Ask if there is a referral program that will reward you when referring new clients.
If you still need assistance finding a new stylist or barber near your college campus, check out our Design Essentials Salon locator!