Posted by Design Essentials on Dec 9th 2019
Winter hair color season is only a few weeks away and it's all about creating beautiful natural blends using advanced color techniques. Clients want color services that require fewer visits to the salon as they experience regrowth. In short, they want "Instagram hair" which consists of darker colored roots, blending seamlessly into multiple tones throughout the head.
So, what's the secret sauce to achieving these color looks? It's knowing how and when to use the following 4 color techniques:
1. Color Melting
Color melting is a technique that blends the natural base color of the hair with highlights or balayage tones to create the illusion that the base color is "melting" into the other tones. This technique uses three or more colors overlapping along the hair strand to create a natural color transition without harsh lines of demarcation.
Color melting is ideal for clients with on-the-go lifestyles; he or she wants hair color that looks naturally fabulous but is easy to maintain and requires minimal touch-up services.
The process of color melting is often categorized as an advanced color service. But you'll be happy to know that formulating and application gets easier with practice, and as you master different blending techniques. When it comes to the basics of color melting, here's what you need to know:
Choose 3 to 4 hues from the same color family.

Apply a darker color at the base area. Then transition to slightly lighter shades down the hair strand.

The lightest shade should be applied toward the tips of the hair strand.

For seamless blending, backcomb or smudge areas of overlapping color.
Photo credit // Instagram: @tina_doeshair
2. Pastel Balayage
Thanks to professional color brands like Pulp Riot and Pravana, pastel hair color isn't going away anytime soon. But the application technique in which these vivid color shades are being applied to the hair is changing. Say goodbye to one shade root-to-tip applications, and hello to multi-tone pastel balayage. This popular technique allows you to highlight the hair by hand-painting color onto the hair strand in such a way to create a graduated natural-looking effect with softer, less noticeable regrowth for the client. Meaning less maintenance and upkeep!
Pastel balayage is ideal for all hair types and textures, but it really pops on waves and curls because you're able to choose the color placements that best complement the natural coil pattern.
DE COLOR TIP: Most pastel balayage color services require a double-process application. If your client has naturally dark hair, protect the integrity of the hair by lifting only 1 or 2 levels. Just going a shade or two lighter than the client's natural hair color will get you the results you want without over-processing the hair.
Photo credit // www.behindthechair.com
3. Root Smudge
We're just gonna come out and say it...Root smudging has been and will be everything this winter!
Root smudging (aka gloss smudging) is another innovative color technique used after highlighting the hair to flawlessly blend the root area. After the hair is highlighted and rinsed out thoroughly, color is applied to just the roots to create a "smudge" that will eliminate any lines of demarcation from new highlights. As a result, the client's root area won't grow in as noticeable when their color grows out. Saving them time, money, and fewer trips to the salon.
Sounds like a dope technique, right? Check out this amazing step-by-step tutorial on how to root smudge by Color Educator, @prettylittleombre. Then continue reading to learn her 5 color worthy tips on how to nail your next root smudge.
1. Use a Demi-Permanent Color.
Demi-permanent color last longer than semi-permanents but are less harsh than permanent color. Because demi-permanents fade gradually over time, this will help you get gentler lines and avoid those hard lines everyone hates.
2. Smudge on Damp Hair.
Dry hair absorbs dye like a sponge, which can lead to uneven distribution if you aren't careful. On the other hand, damp hair has a more even porosity that'll allow for easier product distribution—and a much more natural look.
3. Use a Wide-Tooth Comb.
If you use a comb with finer teeth to smudge your client's roots, it'll drag the product too far down and cause splotchiness. A wide tooth comb will help you blend the product while keeping it where you want it.
4. Let it Sit.
How long should you let this process for? For better longevity, let the color sit. Usually every minute processed = one wash. But the maximum amount of time you should let the hair process is 20 minutes, or until the desired deposit is achieved.
4. Foilyage
A new twist on balayage...Foilyage! This trending color placement technique was heaven sent for clients with darker shades of hair color looking to achieve lighter highlights with warm tones. Like balayage, foilyage allows a stylist to use a freehand painting technique to achieve more defined lightness throughout the head. The only difference between foilyage and balayage is that those freehand strands are placed into hair foils to enhance color definition and dimension.
Foilyage is great for clients looking to brighten up their existing color with a naturally highlighted look.
DE PRO TIP: When performing a foilyage color service we highly recommend incorporating the 'money piece' - a bright frame around the front hairline that accentuates the client's facial features and overall color. Clients love it! But what they love most about the foilyage technique, is the fact that they're able to rock stunning hair color that requires a low commitment as their natural color grows out.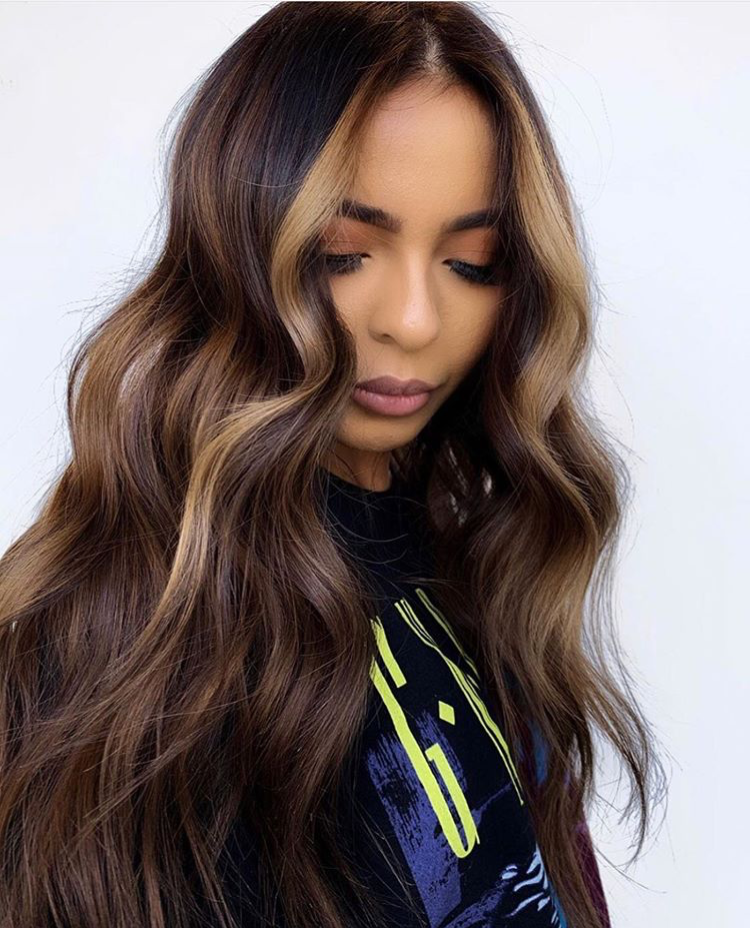 Photo credit // Instagram: @hair_by_bailey_
So, what are you waiting for? Get coloring to give your clients the color trends they're looking for this Winter! With adequate practice and endless creativity you can't go wrong with any of these 4 trending hair color techniques.